# 1056 Leprechaun X
Carved in Norway maple, 1995

Also very popular are pieces that have a number of faces on a stick often connected by twining the hair of one character's beard down onto the head of the next character and so on.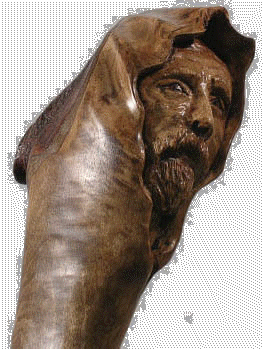 # 1656 Saul of Tarsus X
Carved in red maple, 2004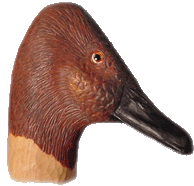 The variety of things that the artist has carved on sticks is extensive. His works include dogs, cats, bears, rams, and horses. As well as frogs, turtles, lizards, and dragons; beavers, bulls, raccoons, and walrus; fish, pigs, and ladybugs; mice, squirrels, wolves, and otters; and a wide assortment of birds.
# 1307 Canvasback III
Carved in dogwood, 1999

# 1400 American Eagle XXXIX, Carved in yellow poplar, 2000

# 1404 Otter X
Carved in black walnut, 2000

"A tree is a magnificent living thing -each has its own personality. It sprouts, it grows, and eventually it crumbles into the forest floor. To take a piece of a tree and turn it into a work of art, to immortalize it so to speak, gives me a deep sense of satisfaction."
- David N. Stehly
Return to Main Page
More About Sticks
Contact The Artist
Shows
Links